The current Coronavirus outbreak is causing extreme effects in online consumer spending. "The crisis will put severe pressure on online sales this year, notably due to significantly lower online fashion spending and the lack of travel and holiday bookings. ", according to ecommerce Europe.
"Online shops can, however, play a vital role in the undesirable scenario of a total EU-wide lockdown in the near future." said Wijnand Jongen, President of Ecommerce Europe and CEO of Thuiswinkel.org, the Dutch e-commerce association.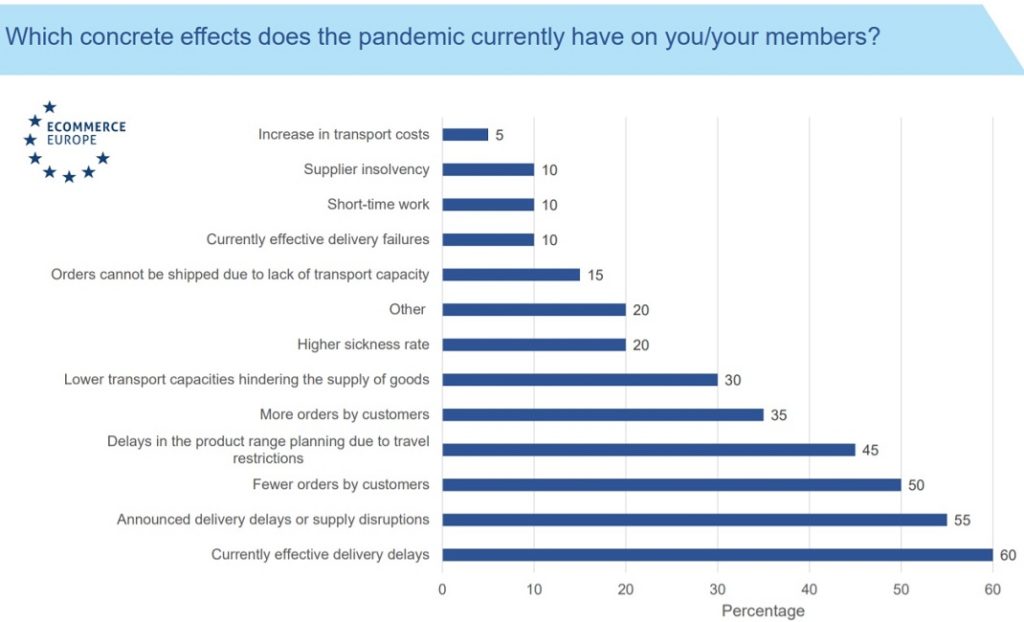 Impact of being at home on specific sectors
The constraints that consumers face are currently driving significant growth in segments such as food and drink, health and grooming products, and products that contribute to working from home, home education (laptops, tablets, screens, cables, office chairs, etc.) and being at home (freezers, etc.). Segments such as sports equipment, do-it-yourself products and sports equipment show double-digit growth. Thus far, online marketplaces seem to be doing well in this initial time of global crisis, as witnessed by the number of requests from sellers to join these platforms. Sectors such as fashion and shoes are hit hard, in the travel sector there is also an extreme loss of demand.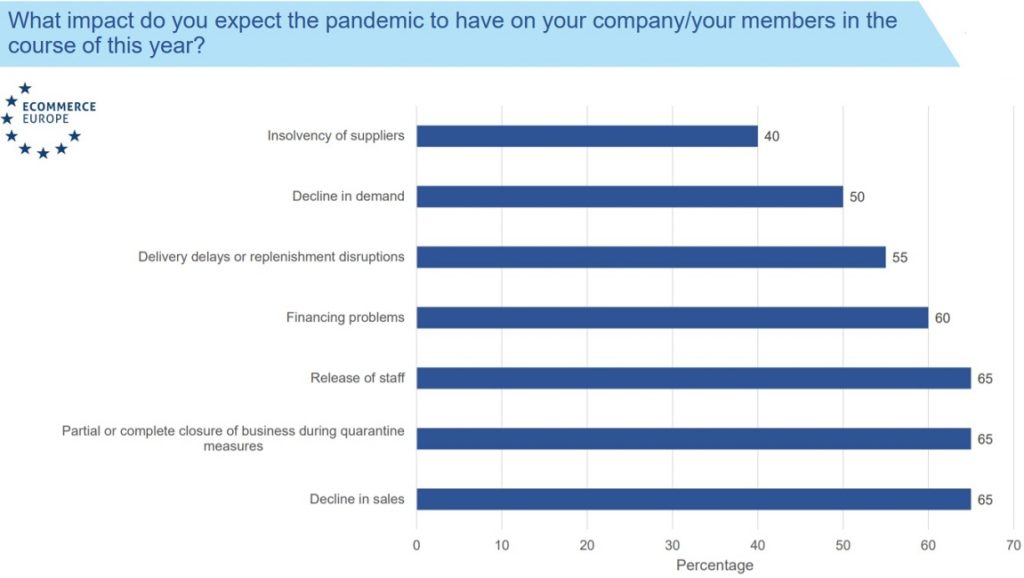 Lockdowns should not hamper cross-border flows of products
In the European Union, there are several countries that went into far-reaching lockdowns (e.g. Belgium, France, Germany, Italy, Spain and Austria). Other government policies (e.g. the Netherlands, Sweden) are not yet based on a full lockdown. In both situations, but especially in the case where consumers are no longer allowed to visit brick-and-mortar shops, online retail can play a vital role.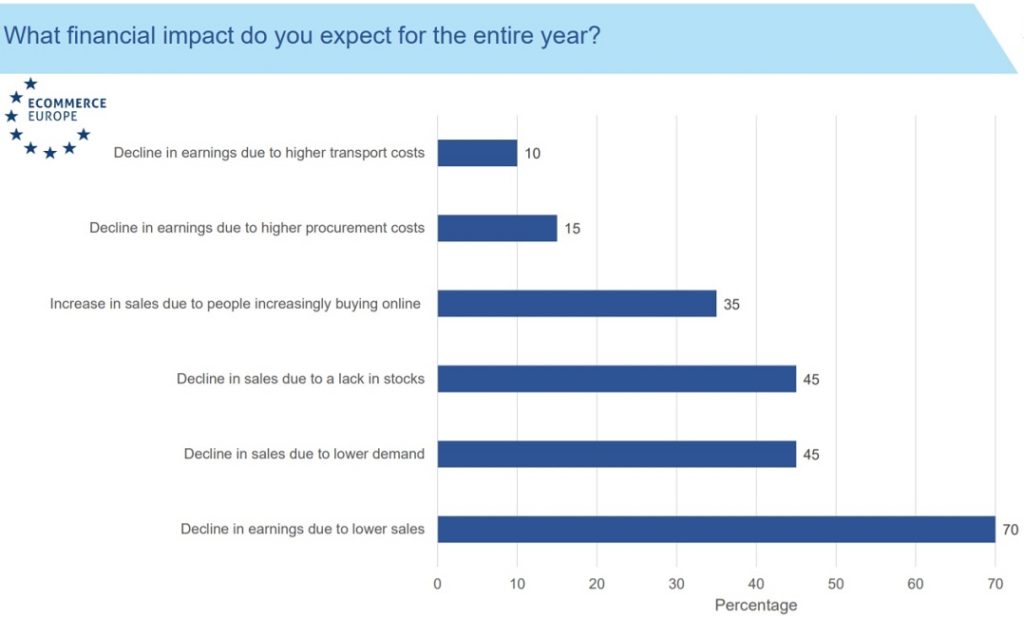 Online shops, parcel delivery and postal operators work together day and night to meet the challenge of continuing to deliver products to consumers all over Europe.
Marlene ten Ham, Secretary General of Ecommerce Europe: "In these times, it is crucial to keep the borders open for essential products and not impose further restrictions on import and export. We strongly support the call from European Commission's President ,Ursula von der Leyen, to keep the borders open for import of the goods that people urgently need."
COVID-19 pandemic highly affects ecommerce industry
An Ecommerce Europe survey has revealed the impact of the Coronavirus outbreak on ecommerce in Europe, reporting that the current pandemic is already affecting online retail.
According to the survey, 65% of the respondents indicated that they or their members (online merchants) expect the pandemic to lead to a decline in sales and a release of staff. This decline of sales can already be seen in sectors such as fashion, travel and other service-based sectors. In contrast, industries such as food, healthcare products, products contributing to working from home (laptops, tablets, screens etc.) and being quarantined (freezers, etc.) have seen a steep increase in sales.
As a result of the focus on ecommerce in these growth sectors, some certain effects of the crisis on online retail are already visible. According to thepaypers.com, while 94% of respondents indicate that it is still possible to sell and deliver products in their own country and cross-border, members did stress that there are sometimes some practical problems depending on where online shops are selling to, for instance at the border, or which products they are selling. While delivery is thus still generally possible, between 55% and 60% of the responding members is currently dealing or expects to deal with delivery delays in the future.
Around 65% of the companies and national associations currently expects a partial or complete closure of their business or that of their members during quarantine. This is also linked to whether or not a Member State is in a far-reaching lockdown. (For instance, in Italy, where the outbreak in Europe first hit, the closure of activities was declared already on 13 March.)
In instances of far-reaching lockdowns, the dependency on online retail becomes significant. Delivery operators and online retailers, especially SMEs, are going to need support from governments and authorities to fulfill this important function.
###