More than three quarters of cashless transactions in Germany, Austria and Switzerland are now contactless. High contactless adoption now puts DACH on a level field with the Nordics.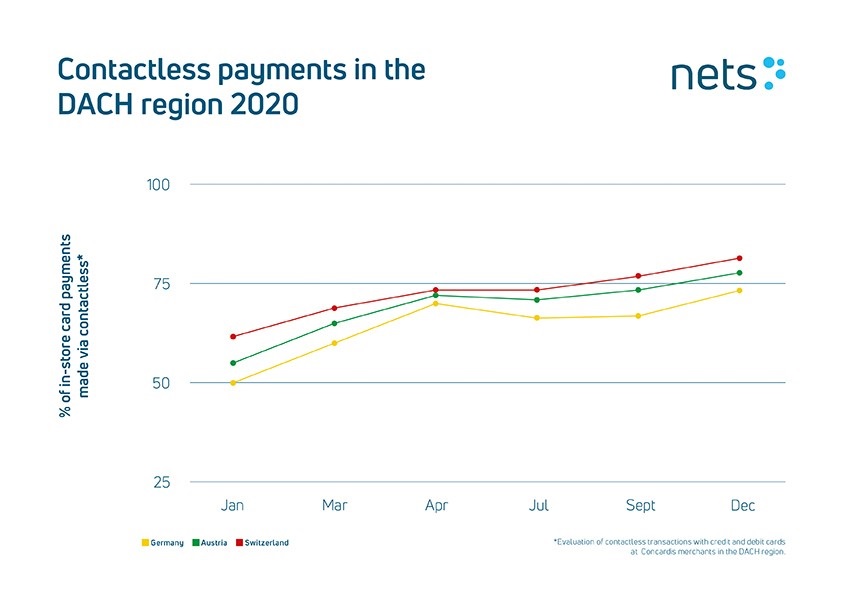 Nets Group, one of Europe's leading PayTech companies, has published new data on contactless payment transactions in the DACH region. This region, until recently heavily reliant on cash and invoicing, has experienced a dramatic transformation in contactless adoption over the last two years.
In June 2019, overall contactless adoption in the DACH region was at just 40 per cent. This rose quickly to 71 per cent by June 2020 and by June 2021 more than three quarters of cashless transactions in Germany, Austria and Switzerland were contactless. The average contactless rate is now 77 per cent in Germany, 82 per cent in Austria and 80 per cent in Switzerland.
"The pandemic has significantly accelerated a steadily growing trend in the DACH region," said Robert Hoffmann, CEO of Nets Merchant Services. "It was inevitable that Germany, Austria and Switzerland would ultimately achieve high levels of contactless payment adoption, but without this catalyst, it would have taken years to reach where it is today. An increasing number of merchants here are now offering and actively encouraging tap-and-go, which is becoming the norm for consumers."
Such high levels of overall contactless adoption put the DACH region on a level field with the Nordics, which, despite being a highly digitised society, has also seen significant growth in contactless payments over the past two years. In January 2020, average contactless adoption in the Nordics was at 56 per cent. This grew to 75 per cent by January 2021. Norway saw extreme growth, with only 35 per cent contactless adoption in January 2020 rising to 79 per cent in January 2021.
For merchants and their customers, these behavioural trends have brought significant benefits, including a faster checkout and shorter waiting times. This is evident at supermarkets and bakeries, where almost everyone pays contactlessly (87 per cent at supermarkets and 94 per cent at bakeries, across the three DACH countries) when paying with a card or smartphone.
In most cases, neither PIN nor signature is necessary for amounts under €50, making the payment process far simpler and more convenient for all parties. Merchants also benefit from automated reporting, an overview of all payment flows on mobile devices and streamlined accounting processes.
Hoffmann believes it is not just convenience and speed that will continue to increase contactless adoption: "An increasingly customer-centric product and solution development process means payments will continue to become smarter and more digital. New SoftPOS solutions, which let consumers pay via mobile apps, will ultimately see magnetic stripes and EMV® contact chips used only in exceptional cases for cashless payments at the checkout, or disappearing entirely. The future of payments is contactless."