Peste 200 de specialisti prezenti si 11 ore de eveniment!
19 prezentari si 7 panel-uri, pe durata unei zile intregi, au facut din Banking 4.0 un eveniment fara precedent in istoria evenimentelor de business din industria financiar-bancara.
Peste 15 ore de filmare, care vor fi editate si promovate in cursul lunii decembrie pe canalele NOCASH.
Va multumim pentru sprijin, participare si intelegere.
Ne vedem la urmatoarea editie a Banking 4.0, in toamna anului viitor.
Filmul evenimentului pe scurt, in cateva imagini:
09.15′ – 10.30′ primele prezentari ale conferintei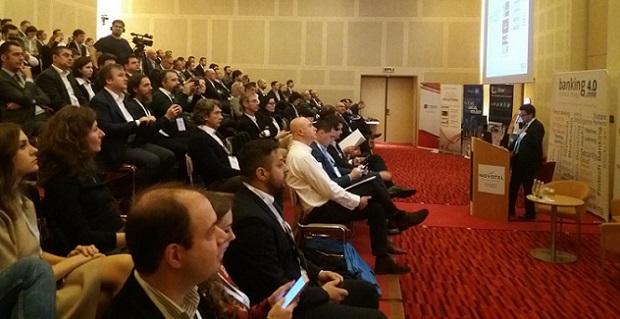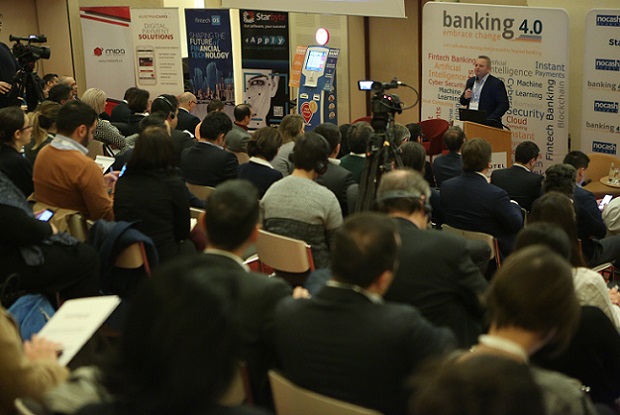 14.30′ – 15.30′ primul panel al zilei: "The new bank, version 4.0"
Panelisti (de la stanga la dreapta):
Cristian Carstoiu – Partner Digital Transformation & Analytics EY Romania (moderator), Florin Ilie – Head of Financial Markets Corporate Sales for Central & Eastern Europe ING, Marian Ignat – Executive Director / Digital Banking Division BCR, Kostas Tovil – Senior VP Digital Retail at 4finance Group, TBI Bank.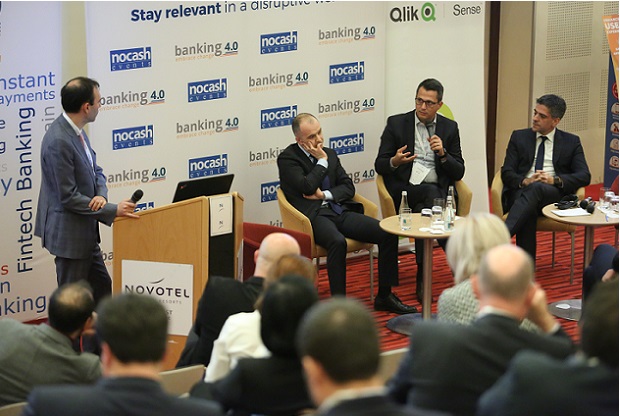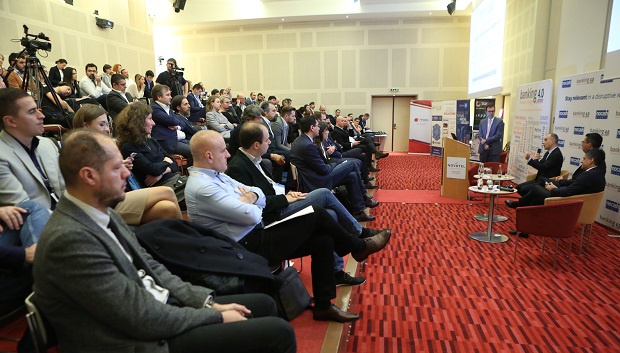 Dupa masa de pranz, sala Paris a Hotelului Novotel a fost impartita in doua, iar evenimentul a continuat cu cea mai asteptata parte a conferintei: discutiile interactive din paneluri, care s-au desfasurat cate doua in paralel.
16.20′ – 17.20′ Panel authentication & biometrics
Panelisti (de la stanga la dreapta):
Adrian Dinculescu, Managing Director Namirial (moderator), Liviu Stoica – presedinte AADR, Dragos Mindreci, Head of Marketing & Innovation Oney Bank – member of Auchan Group, Giovanni Carnovale –  Regional Sales Manager, OneSpan si Mircea Ghebri – Project Manager, Starbyte.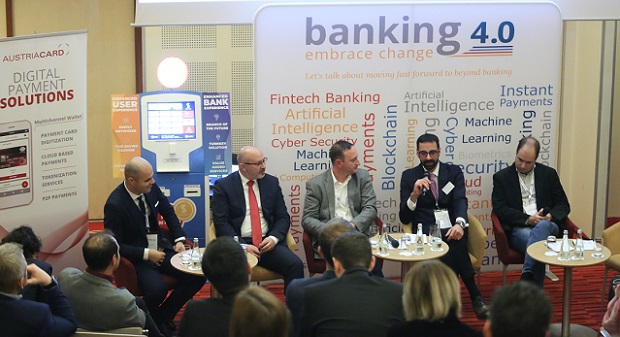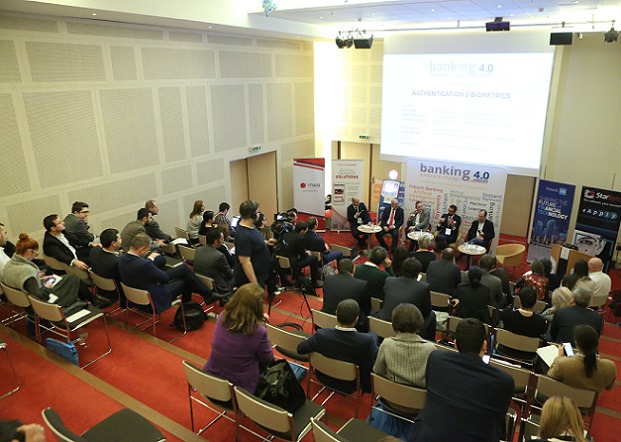 16.20 – 17.20 Panel blockchain
Panelisti (de la stanga la dreapta):
Jean Hilger – Head of the Digital Banking and FinTech Innovation Cluster at ABBL (The Luxembourg Bankers' Association), Christian Hagmann – Chief Executive Officer & co-founder Bittwatt Pte.Ltd, Felix Crisan – Co-founder & CTO Netopia, Andrei Burz-Pinzaru – Partner at Reff & Associates, member of Deloitte Legal, Roman Cinkais – Head of Consulting | CEE Area Diebold (moderator)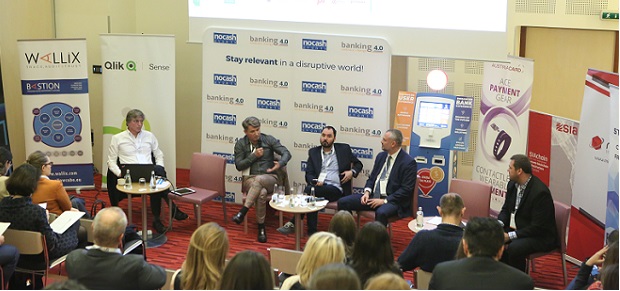 17.30′ – 18.30′ Panel Artificial Intelligence
Panelisti (de la stanga la dreapta):
Paula Costea – Customer Success Director, FintechOS, Gabriel Coman – Head of Digital Technology & Innovation Banca Transilvania, Andrei Nagy – Co-Founder & COO AlphaBlock, Adina Grigoriu – Founding Partner & CEO Active Asset Allocation, Raul Popa – CEO & Data Scientist TypingDNA, Alex Panican – Head of Partnerships and Ecosystem, The LHOFT (moderator)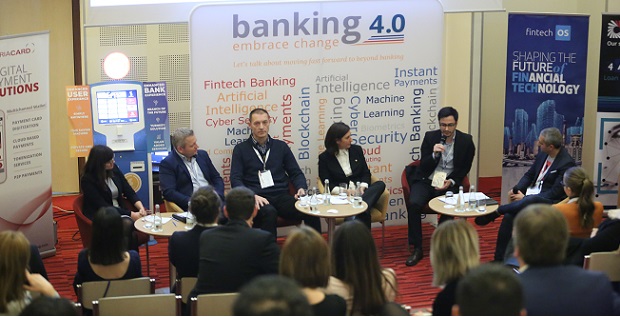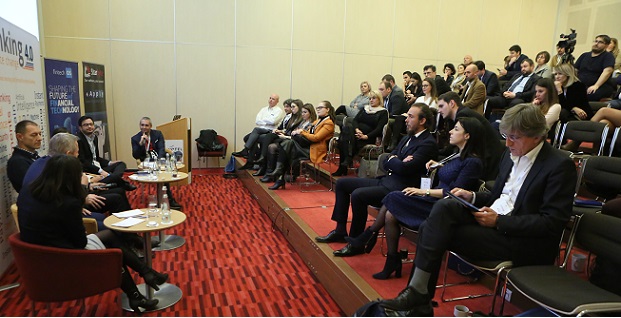 18.40′ – 19.40′ Panel payments (instant & mobile)
Panelisti (de la stanga la dreapta):
Bogdan Nastase – Project Manager Transfond, Irina Scarlat – Country Manager Revolut, Mihai Ivascu – CEO Modex & Moneymailme, Mikhail G0rdeev – Head of New Products, Austria Card, Austria Card, Antonio Eram – CEO Netopia (moderator)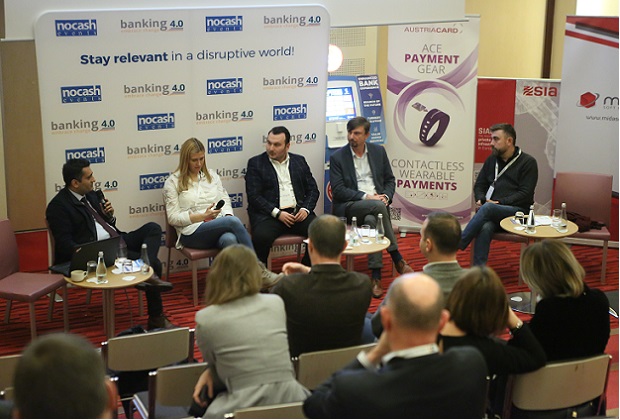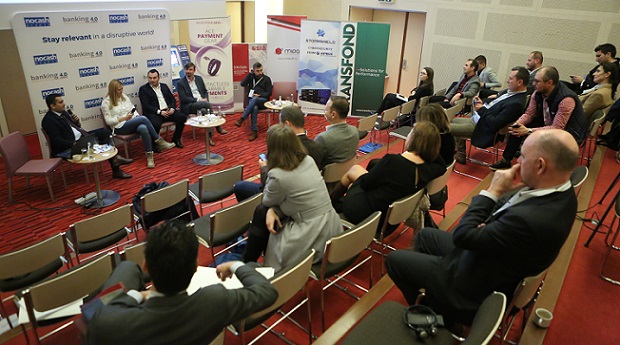 18.40′ – 19.40′ Panel Open Banking
Panelisti (de la stanga la dreapta):
Jean-Philippe Joliveau – Senior Product Manager, International Division SIA, Florin Boldescu – Chief Digital Officer BRD, Ruxandra Avram, Head of Market Infrastructures Oversight Department BNR, Vlad Stanilescu – Head of Digital Channels ING, Andrei Berghian – Account Manager Allevo, Jean Hilger – Chair of LuxHub, Cosmin Cosma – CEO FinQware (moderator)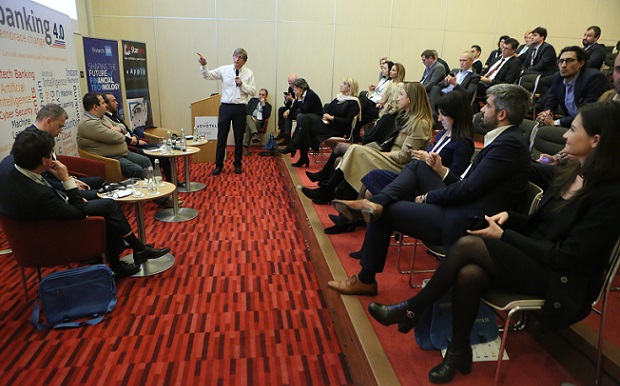 Multumim partenerilor nostri: