At the beginning of this year, a People's Bank of China official said that about one-fifth of the Chinese population had set up e-CNY wallets. The latest Morning Consult May survey found that 19% of Chinese respondents said they had downloaded the e-CNY app, in line with the official number.
China's digital yuan, also called the e-CNY, is the world's first truly large-scale central bank digital currency. The reported number of e-CNY users — 261 million — is more than the combined populations of Germany, France, Italy and Spain. The financial sector, both in China and abroad, is interested in how quickly consumers in a large economy will adopt a central bank digital currency, or CBDC.
Digital legal tender may pose a risk of disintermediation of the financial system or increased instability in the event of bank runs. If the world's largest banking system can roll out a CBDC without falling prey to these risks, it will be an instructive example.
For their part, other countries' governments — 79 of which are in the process of researching, developing or deploying their own CBDCs — are observing the e-CNY pilot to see how quickly government-sponsored digital money might replace both cash and private forms of digital money.
There is also much discussion taking place in policy circles over e-CNY adoption as a future challenge to U.S. dollar dominance as the e-CNY participates in pilot programs for cross-border transactions.
In their latest representative survey on e-CNY uptake, Morning Consult finds that there are both challenges and opportunities ahead for widespread adoption of the world's most advanced CBDC project.
The e-CNY has a tough road ahead. Private digital payment apps WeChat Pay and Alipay are ubiquitous in China, together accounting for around 94% of the digital payments marketplace. They are also well-liked, with 83% of Chinese adults having at least a somewhat favorable opinion of them. But 60% of Chinese consumers also regard the e-CNY favorably. And although more than a third had not heard of or had no opinion about the e-CNY, the share holding an unfavorable view of it was on par with the shares holding the same view of WeChat Pay and Alipay.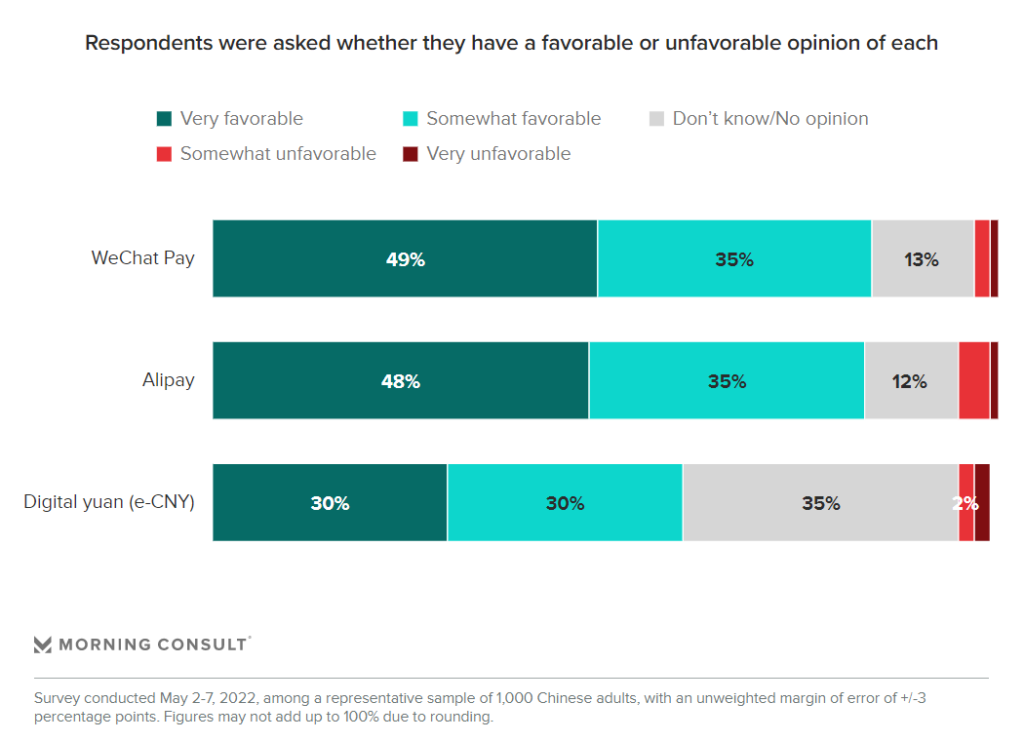 Some nonadopters say they don't need it; others say they can't get it
A combined 44% of Chinese adults say they don't use the e-CNY app because they either don't need it (27%) or prefer using another form of digital payment (17%). But another 26% say they don't use it because they don't know how, and 13% cite technical barriers like not residing in a pilot city (9%) or not having a smartphone that supports the app (4%). This paints a different picture, one in which investments in educating consumers on its use and rolling the pilot out more widely could result in large gains in user uptake.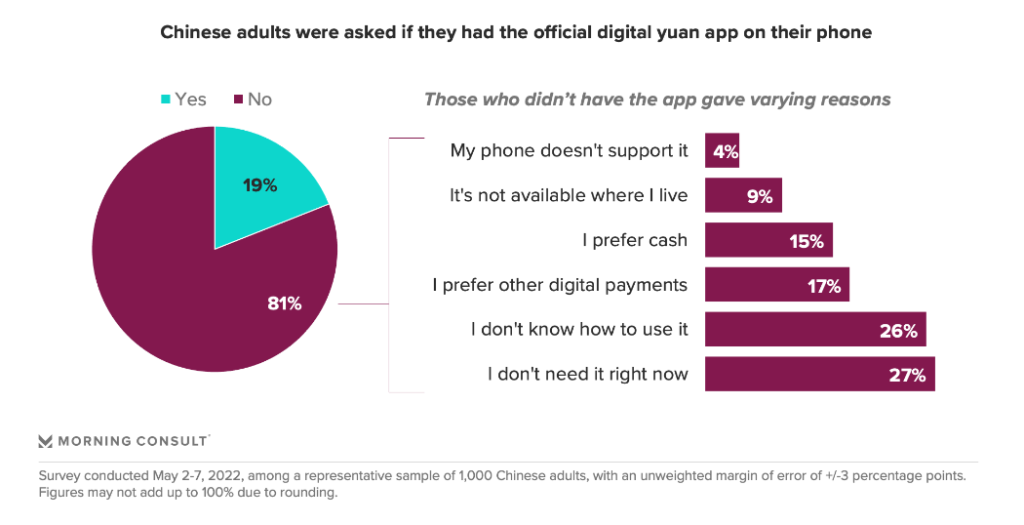 Of those who said they downloaded the e-CNY app (n=186), the largest shares use it for online shopping (72%) and paying for public services, such as public transportation (67%). This makes sense in light of the incentives offered under the pilot schemes, which have included discounts from online merchants and on public transit.
Of the e-CNY's perceived advantages, geopolitical benefits come in dead last
Most consumers aren't thinking of the e-CNY's potential benefits in geopolitical terms. Despite internationalization of the renminbi as a stated long-term objective of the project, the public ranked "helping China be a leader globally" dead last among possible "major advantages" of the e-CNY. "Greater independence from the U.S. dollar" was also near the bottom. In contrast, 59% of respondents said that ease of investigating corruption and money laundering would be a major advantage. In a nod to Chinese respondents' interest in facilitating stronger government oversight of the monetary system, "better management of the money supply" tied for second.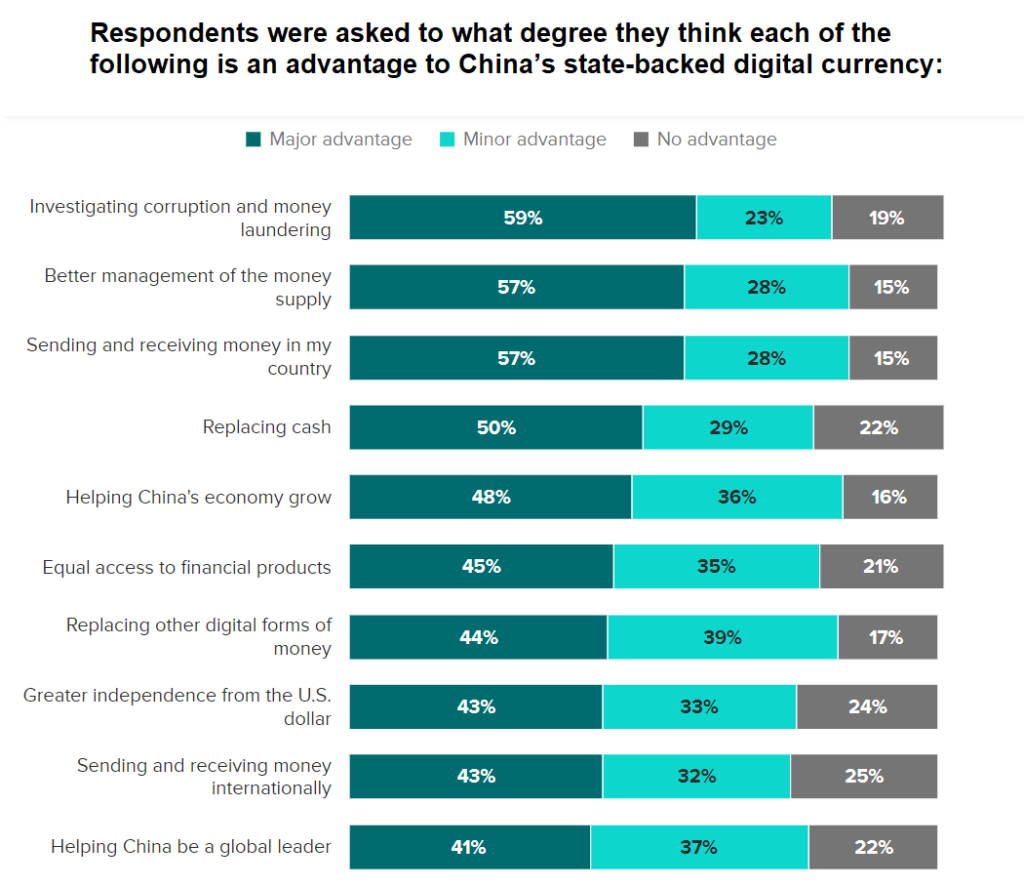 The e-CNY will have major implications for retail, payment providers and financial institutions as its adoption expands. For more details access the full article here