For the first time, Chinas UnionPay now has the world's top-used debit card, having taken the honor last year away from long-time leader Visa, according to the Nilson Report.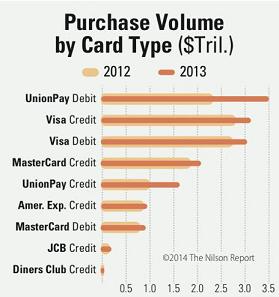 Purchases for goods and services from merchants worldwide in 2013 grew by $2.786 trillion or 22.0% to $15.422 trillion(not including cash advances or cash withdrawals via credit card). The most popular payment method based on purchase volume were UnionPay debit cards, which for the first time surpassed Visa credit cards and Visa debit cards, according to the annual report, Global Cards, published in the current issue of The Nilson Report.
When comparing debit card purchase volume, UnionPay's share increased by 738 basis points to 47.19 percent. Visa's share fell 605 basis points to 40.62 percent, and MasterCard's share declined by 133 basis points to 12.20 percent. This made UnionPay the largest general purpose debit card band based on the purchase volume.
When comparing credit card purchase volume only, Visa's market share of 39.22% was down 262 basis points. MasterCard's share dropped 158 basis points to 26.08%. UnionPay's share grew by 534 basis points to 20.39%. American Express's share fell 109 basis points to 11.79%. JCB's share improved by 3 basis points to 2.21%, and Diners Club's share declined 8 basis points to 0.32%.
At the end of 2013, some 8.33 billion credit, debit, and prepaid cards were in circulation globally, up 13.3 percent, or 975 million, from a year earlier. Visa-branded credit, debit and prepaid cards initiated more than 101 billion payments last year, more than twice the total of MasterCard, its nearest competitor.
Established in 2002, UnionPay is the national bankcard association in China.