November 15, 2010 – China will soon be the largest mobile payments market in the world, with 410 million users by 2013, according to research house Celent.
China is already the world's largest mobile phone market, with 740 million users in 2009. In terms of remote mobile payment, the penetration rate in the market was 10% in 2009 but this is expected to soar 48% year-on-year until 2013. For contactless m-payments, penetration in 2009 was only 0.5% but the number of users for this technology is set to exceed 400 million by 2015.
In its report, Celent focuses on the country's three major m-payments players; mobile operators, banks, and third party companies although there are signs of increasing cooperation between the industries.
Remote mobile payments and contactless mobile payments are two different business models with very different markets. More payment tools, such as bank cards, credit cards, and prepaid cards will be integrated into the mobile phone. A huge market will open if China UnionPay succeeds in linking the SD card to credit cards and bank cards.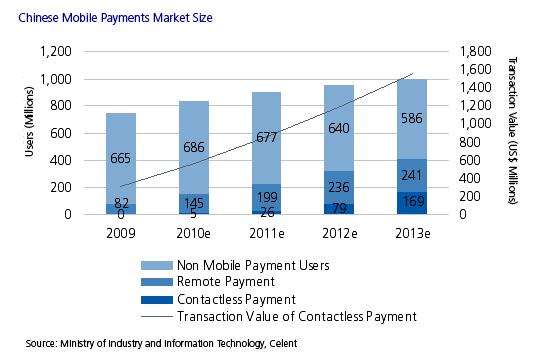 In May card network operator China Unionpay signed up a group of the country's banks, wireless operators and handset manufacturers to a mobile payments industry alliance that will establish standards and a business model.
Currently, mobile operators mainly focus on contactless m-payments, and they have established their own payment networks in shops, stations and other outlets. Banks are licensed to handle large transactions and are able to provide complex financial products, mainly focusing on large payments, with SD cards bound with cards.
Celent says that, in the long run, remote large value mobile payments will become the key development focus of China UnionPay and various operators, and the transaction total for these will far exceed contactless mobile payments.
Hua Zhang, analyst, Asia financial services group, Celent, says: "Partnerships with banks are very important for vendors who want to enter the market. Currently, the best business model in the Chinese market focuses on cooperation between operators and banks. Mobile operators and third party payment companies are also strengthening their cooperation with the banking industry for increased success."
Source: celent.com