Chinese regulators ordered Jack Ma's online financial titan Ant Group Co. to return to its roots as a provider of payments services, threatening to throttle growth in its most lucrative businesses of consumer loans and wealth management, according to Bloomberg.
The central bank summoned Ant executives over the weekend and told them to "rectify" the company's lending, insurance and wealth management services, the People's Bank of China said in a statement Sunday. While it stopped short of directly asking for a breakup of the company, the central bank stressed that Ant needed to "understand the necessity of overhauling its business" and come up with a timetable as soon as possible.
The series of edicts represent a serious threat to the expansion of Ma's online finance empire, which has grown rapidly from a PayPal-like operation into a full suite of services over the past 17 years. Before regulators intervened, Ant was poised for a public listing that would have valued it at more than $300 billion.
The Hangzhou-based firm now needs to move forward with setting up a separate financial holding company to ensure it has sufficient capital, and protect personal private data, the central bank said.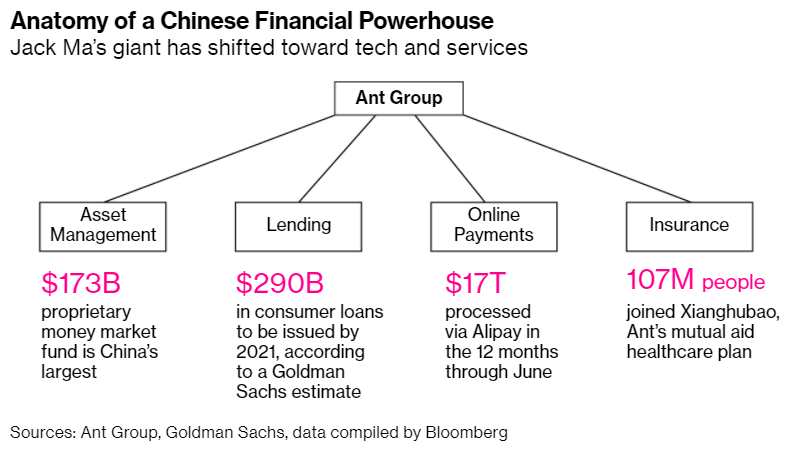 Ant said in a statement on Sunday that it will set up a special team to create proposals and a timetable for an overhaul. It will maintain business operations for users, vowing to keep costs for consumers and financial partners unchanged, while stepping up risk control.
The pressure on Ma is central to a broader effort to curb an increasingly influential internet sphere. The regulators said they will "resolutely" break monopolistic practice and have "zero tolerance" on any illicit financial activities while keeping the global competitiveness of the Chinese fintech firms in the future.
Ant's top executives are part of a task force that already has almost daily interactions with watchdogs. Meanwhile, regulators, including the China Banking and Insurance Regulatory Commission, are weighing which businesses Ant should give up control of to contain the risks it poses to the economy, officials with knowledge of the matter have said. They haven't settled on whether to carve up its different lines of operation, split its online and offline services, or pursue a different path altogether.
"Ant's growth potential will be capped with the focus back onto its payments services," said Shujin Chen, the Hong Kong-based head of China financial research at Jefferies Financial Group Inc. "On the mainland, the online payments industry is saturated and Ant's market share pretty much reached its limit."