At the end of August, OpenAI announced the latest iteration of its generative AI product ChatGPT, in the form of ChatGPT Enterprise, and payments is emerging as one of the key use cases, according to an analysis by FXCintelligence.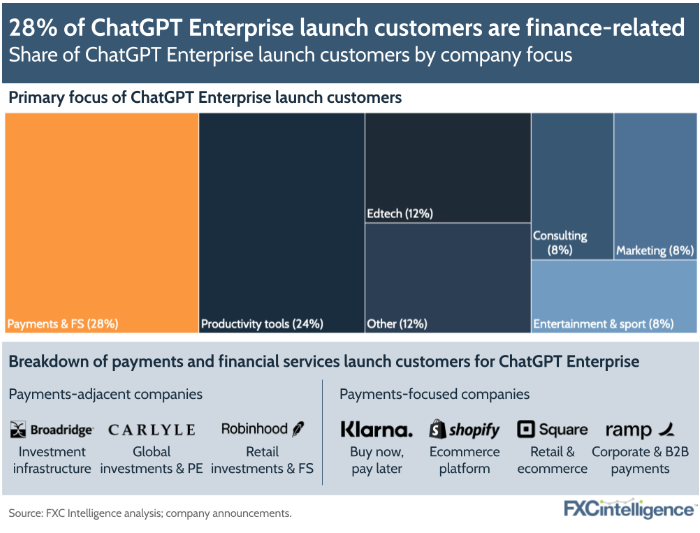 Promising enterprise-grade security and privacy; increased speed; and improved input, analysis and customisation options, ChatGPT Enterprise is designed to provide an enhanced version of the premium ChatGPT Plus service that also alleviates concerns around the use of company data in training models and similar.
It was launched as a result of OpenAI observing high numbers of individual registrations from enterprise companies for its existing products – it has registered users from 80% of the Fortune 500 – with many organisations already adopting the use of the generative AI technology into everyday processes.
Among the 25 companies that OpenAI has named as launch customers, just below a third are in financial services-related fields and four – 16% – are in payments, indicating that there is disproportionate interest in the technology within the field. Out of these companies, three quarters – Block subsidiary Square, Shopify and Klarna – are in payments processing and ecommerce-related fields, suggesting that this area is seeing particular interest in the technology, possibly for its customer-focused benefits.
This is reflected by analysis in our recent state of payment processing report, published last week, where we found a sharp uptick in discussions of AI in payment processor earnings calls over the past few quarters.
Meanwhile, the final player, Ramp, is instead in the corporate and B2B payments space, indicating that there is potential for the technology in other areas of payments too.
"ChatGPT Enterprise is not the only product in this space, with Bing Chat Enterprise also being launched recently, although we have yet to hear of any specific players making use of the product. However, the increased discussion of AI, along with new enterprise-focused products, speaks to strong long-term potential for the technology." FXCintelligence analysts concluded.