According to 451 Research's new forecast, digital commerce sales will grow at more than six times the rate of in-store sales through 2022. Mobile contactless payments will surpass $1 trillion globally in 2022.
451 Research, a leading technology research and advisory firm, today announced that, after two years of collecting data from payment networks, payment processors, financial institutions, digital wallet providers and retailers, it has launched its Global Unified Commerce Forecast.
The premise of 451 Research's Global Unified Commerce Forecast is to deliver a view into the evolution of consumer spending patterns across more than 60 individual countries. The forecast provides five-year projections for overall retail transaction volume and sales, drilling down into purchase activity across in-store, mobile contactless, e-commerce and m-commerce.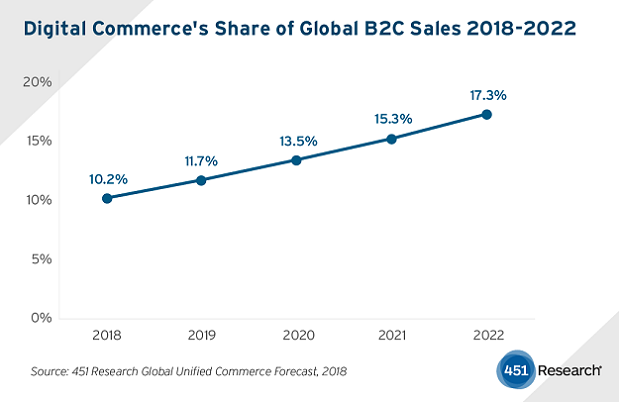 "The confluence of new technologies, new entrants and new consumer demands has catapulted retail into a state of flux," said Jordan McKee, Research Director for Customer Experience & Commerce at 451 Research. "These market shifts are influencing not only the way in which shoppers choose to obtain their desired goods and services, but how and where they spend their money. Our new forecast is designed to provide quantitative guidance on these shifts in purchase activity in developed and emerging markets around the world." Among many findings, 451's newest forecast found four unique trends that will transform retail.
One out of every ten dollars spent globally this year will be spent online.
Consumers are increasingly turning to online and mobile channels to make purchases that they traditionally would have made in-store in prior years, thanks to new online purchasing experiences like click-and-collect and mobile order-ahead. According to the forecast, online commerce will continue to expand with speed through 2022, growing at more than six times the rate of in-store sales and cresting $5.8tn.
China will become the world's first $1 trillion digital commerce market this year.
China has become an e-commerce and m-commerce powerhouse in recent years, rapidly evolving into the world's largest market for digital sales. Our forecast projects the country will exceed $1tn in online spend by year-end, making it the first country to cross this major milestone.
By 2019, the number of m-commerce transactions will eclipse the number of e-commerce transactions globally.
Mobile has already become the primary computing platform for the world's population, and next year it will become the top digital commerce platform for consumers around the globe. Mobile will increasingly be the first, and often the only, touchpoint retailers will have with a shopper.
Mobile contactless payments will surpass $1 trillion globally in 2022.
Sales executed via mobile contactless payment methods such as Apple Pay and Google Pay are growing at an impressive 30.7% CAGR through 2022. However, they will account for just 1.4% of global brick & mortar retail sales this year and reach only 3.8% by 2022.
The Global Unified Commerce Forecast is an annual market-sizing, segmenting and forecasting of omni-channel commerce across 60+ countries. The Excel-based forecast delivers quantitative insight into the evolution of consumer spending patterns across purchase channels and provides a five-year view into overall retail transaction volume and sales growth based largely on data collected directly from payments and commerce stakeholders.
Founded in 2000 and headquartered in New York, 451 Research is a leading information technology research and advisory company focusing on technology innovation and market disruption. More than 100 analysts and consultants provide essential insight to more than 1,000 client organizations globally through a combination of syndicated research and data, advisory and go-to-market services, and live events.