Crypto fans say the current rally is different from the one seen in 2017 as it is driven by institutional buying rather than retail speculation.
Bitcoin hit a new record high on Thursday helping to lift the total value of the entire cryptocurrency market above $1 trillion for the first time, according to CNBC. The digital coin hit an all-time high of $40,367 at around 1:17 p.m. ET, just a few hours after blowing past the $39,000 level, according to data from Coin Metrics.
The cryptocurrency is up over 30% since the start of 2021, doubled in the last four weeks and in the past 12 months has surged 400%.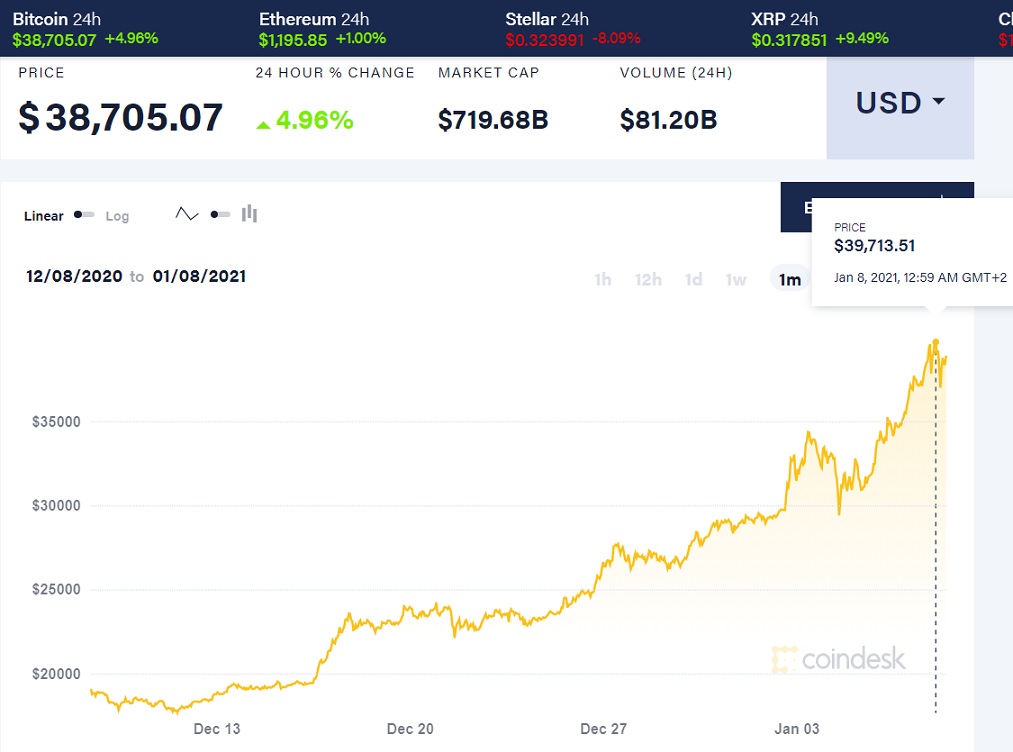 Social Capital's Chamath Palihapitiya thinks the digital currency has a long runway ahead even after its massive rally.
"It's probably going to $100,000, then $150,000, then $200,000," Palihapitiya told CNBC's "Halftime Report." "In what period? I don't know. [Maybe] five or 10 years, but it's going there."
"The reason [it's going there] is because, every time you see all of this stuff happening, it reminds you that our leaders are not as trustworthy and reliable as they used to be," he said. "So, just in case, we really do need to have some insurance we can keep under our pillow that gives us some access to an uncorrelated hedge."
The value of the entire cryptocurrency market, which is made up of bitcoin and other digital coins like ether and tether, surpassed $1 trillion for the first time earlier on Thursday, according to data from Coinmarketcap. Bitcoin is by far the most dominant cryptocurrency, with a market value of over $700 billion.
Bitcoin's resurgence has been attributed to a number of factors including more buying from large institutional investors. High-profile investors like Paul Tudor Jones, for example, have been buying the digital currency.
Many bitcoin bulls say the cryptocurrency is akin to "digital gold," a potential safe haven asset and a hedge against inflation. In a recent research note, JPMorgan said bitcoin could hit $146,000 in the long term as it competes with gold as an "alternative" currency. The investment bank's strategists noted that bitcoin would have to become substantially less volatile to reach this price, however. Bitcoin is known for wild price swings.
"This latest bull run in January is sure to attract the asset managers' attention to diversify even more of their assets to crypto as they are keen on finding alternative investments, such as cryptocurrency or gold, to hedge inflation and geopolitical risks," Simons Chen, executive director of investment and trading at cryptocurrency financial services firm Babel Finance, told CNBC.
"A large number of retail investors have also joined the race recently as they fear to miss out on opportunities to make easy, quick gain from the latest bull run," he added.
Bitcoin's rise has also been helped by moves in the space from big financial firms like PayPal and Fidelity. PayPal last year launched a feature that lets its users invest in cryptocurrencies, and is planning to offer crypto payments across its massive network of retailers later this year.
Anthony Pompliano, co-founder of crypto hedge fund Morgan Creek Digital, said bitcoin has seen more adoption as a means of payment recently. The total transaction volume of bitcoin in 2020 was greater than that of Venmo, PayPal or Apple Pay, he claimed.
"There was more usage of the bitcoin payment rails than some of the most popular fintech products," he told CNBC's "Street Signs Europe."
"Bitcoin is transitioning from what used to be a contrarian idea or a contrarian trade to a consensus trade. I think that's where you're getting this re-pricing of the asset and the rapid price appreciation, as more and more folks on Wall Street come into the asset and want exposure."
But some bitcoin critics — such as David Rosenberg, economist and strategist at Rosenberg Research — have called bitcoin a bubble.
"The parabolic move in bitcoin in such a short time period, I would say for any security, is highly abnormal," Rosenberg told CNBC earlier this month.
Crypto fans say the current rally is different as it is driven by institutional buying rather than retail speculation.
For his part, according to PwC's global crypto leader Henri Arslanian, one big difference between this rally and the one seen in 2017 is clarity in regulations, which was scarce back then. Today, he said, most regulators around the world have people working on crypto internally. Many of the large financial centers have "pretty good regulatory clarity on crypto markets and that is giving comfort, not only to institutional investors but also retail investors as well coming in the market," he said.
While Arslanian declined to put a price target on bitcoin for this year, he said the current momentum remains optimistic. "More than the price of bitcoin, I'm watching the number of new institutional players coming in, which I think have an outsized impact on the markets," he added.
"When you look at this bitcoin rally that we have been seeing in the last couple of weeks and months, really, there's two big elements driving it. One is the continuous entry of institutional players," Arslanian said.
A second development driving the current bitcoin rally is retail investors and their fear of missing out, according to Arslanian. He said a lot more people today have accounts on crypto exchanges than before as buying cryptocurrencies is easier now than before.
"With these two big elements driving it, there's a lot of momentum going on in the space. There's a lot of optimism in the crypto markets as well," he said.