A report commissioned by the group, written by Bankable Frontier Associates, claims that people living in poverty around the world exist in a cash-only economy that can prevent them from breaking the cycle.
Around 2.6 billion people live on less than $2 per day and 90% of them lack access to formal financial services, says the report, with most poor households forced to subsist almost entirely in an informal, cash-only economy making it difficult for them to save for the future, build assets and move out of poverty.
Yet across the globe, governments, the private sector and the development community make billions of cash payments to these people, including as disbursements of salaries, payments to vendors, pensions, social welfare stipends, cash-for-work programs, and emergency relief payments.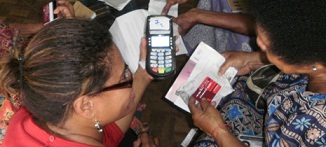 The alliance argues that the shift from cash to electronic payments can result in significant cost savings and dramatic increases in transparency, security and economic growth, citing a recent report by the World Bank which found that governments can cut up to 75% of costs through electronic payment programmes.
David Porteous, lead researcher for the BFA study, says: "Cash-only economies often make it too difficult to find a path out of poverty – it means it is hard to build up savings, cash offers too many opportunities for corruption, and women are often at risk when they have to carry their life savings in cash or gold rather than in an electronic account. For these many varied reasons, it is so important to begin the journey to electronic payments."
The shift from cash is already underway, with the governments of Peru, Kenya, Colombia, and the Philippines, along with USAID, the United Nations Development Programme, Mercy Corps, Care USA, Concern Worldwide, and the World Food Programme (WFP) committing to digitise their disbursements and payments to people living in poverty.
Only last week, the WFP teamed up with MasterCard to rapidly expand its digital food project so that in the near future 30% of the people it helps will get food vouchers via mobile phones or cards even if they do not have regular access to banks.
The alliance says that by making this commitment to ditch cash, these groups are now also eligible for its technical and financial support. Christine Roth, deputy executive secretary, UNCDF, says that "while there are many benefits in shifting away from cash, the effort requires leadership, resources and technical expertise. By offering these services to governments, private sector and development community organisations, we believe we can accelerate the shift to electronic payments."
The alliance is comprising by the UN Capital Development Fund (UNCDF), US Agency for International Development (USAID), Bill & Melinda Gates Foundation, Citi, Ford Foundation, Omidyar Network, and Visa.
You can read the alliance's report, "the journey toward 'cash lite'", here: