GlobalData's E-Commerce Analytics reveals that the BNPL transaction value in the US is expected to grow at a compound annual growth rate (CAGR) of 18.2% between 2023 and 2026 to reach $223.7 billion in 2026. GlobalData's BNPL data reflects e-commerce transactions made using BNPL solutions.
With the launch of its Apple Pay Later service, Apple looks to expand into the BNPL market in the US, as the service has become a popular payment tool in the country, due to increasing demand for short-term credit. Further, with the pandemic adversely affecting consumers' disposable income, the demand for short-term consumer financing solutions has increased in the past couple of years. Given its popularity, the BNPL market in the US is estimated to grow by 35.9% to reach $135.4 billion in 2023, according to forecasts from GlobalData.
Ravi Sharma, Lead Banking & Payments Analyst at GlobalData, a leading data and analytics company:
"The rapidly growing e-commerce market in the country has also contributed to the rising demand for BNPL services. According to GlobalData, the e-commerce market in the US is forecast to reach $2.4 trillion in 2026, rising from $1.7 trillion in 2022. Apple already has a robust presence in the country's payments space with Apple Pay. GlobalData's 2022 Banking and Payments Survey* indicates that Apple Pay accounts for a 5.7% share of the total US e-commerce market, compared to 3.4% in 2020."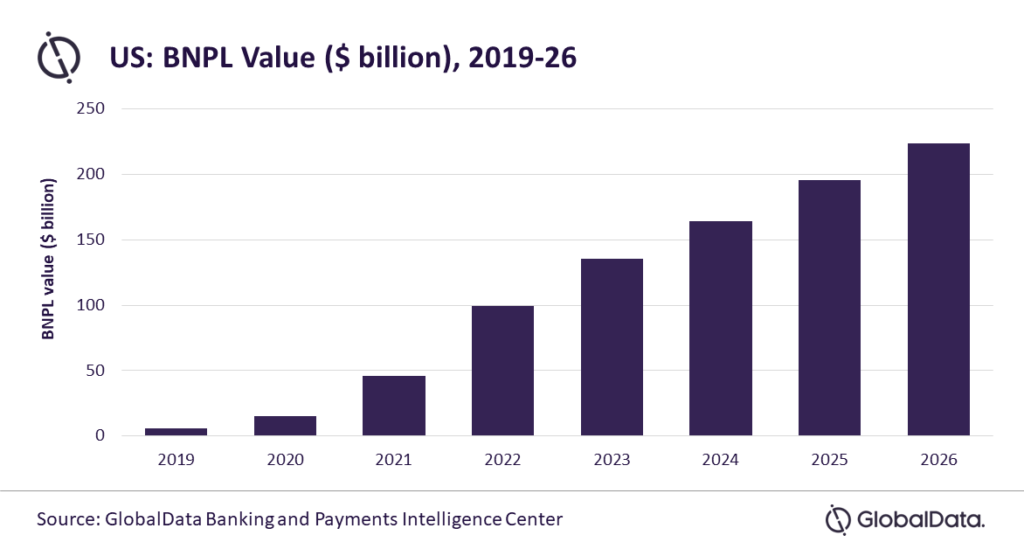 "A GlobalData report identifies millennials and Generation Z as the demographics that are engaging the most with BNPL loans, as they are attracted to the simplicity and speed of BNPL loans, as well as their interest-free nature. Even though banks are taking steps to appeal to younger generations, their efforts are falling short, thereby offering space for BNPL providers to penetrate this space.
"With Apple Pay Later, Apple is all set to disrupt the US BNPL space, which is currently occupied by brands like Affirm, PayPal, and Klarna, which will be supported by Apple's strong brand image, its large smartphone customer base, and the extensive acceptance of Apple Pay among US merchants." – Ravi Sharma added.
The launch of Apple Pay Later is in line with the company's overall strategy to incentivise its existing users to stay within its ecosystem of products and services, as the company launched a number of products and services tied to Apple devices such as Apple Pay and Apple Card in the past.
____________
*GlobalData's 2022 Financial Services Consumer Survey was carried out in Q2 2022. Approximately 50,000 respondents aged 18+ were surveyed across 40 countries.
Apple Pay Later allows its users to split purchases into four instalments, spread over six weeks, with no interest and fees. Users can apply for Apple Pay Later loans of $50 to $1,000, that can be used for online and in-app purchases made on Apple devices – iPhone and iPad, with merchants that accept Apple Pay.