Analysis of data collected identifies many troubling malpractices by lenders, which result in consumer credit being frequently mis-sold. Vulnerable consumers are particularly at risk of becoming over-indebted, which exacerbates an already alarming non-performing loan (NPL) problem in the European Union. Finance Watch recommends rule changes to Directive based on findings from mystery shopping research conducted in Spain, Ireland and Romania.
______________
A new study released today by Finance Watch provides fresh data that confirm troubling practices in Europe's consumer credit market.
This Finance Watch report provides an analysis of data collected in summer 2020 from 89 cases using mystery shopping exercise to identify what are the reasons for the mis-selling of consumer credit and irresponsible lending in three EU Member States – Ireland, Romania and Spain.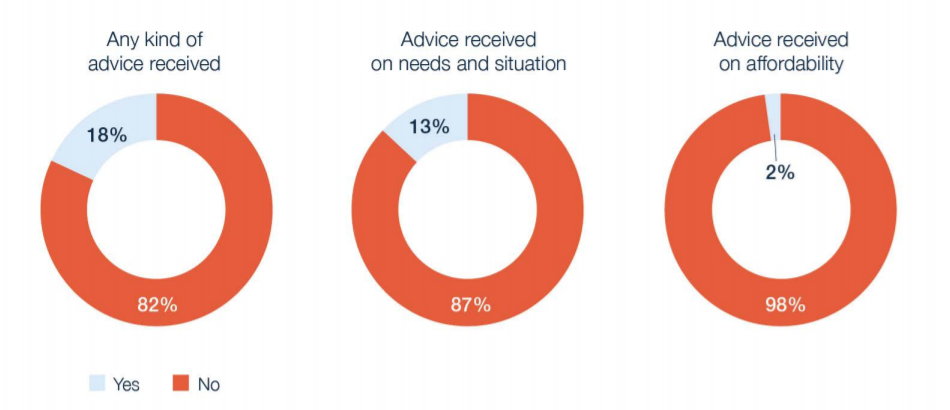 The report confirms concerns raised by stakeholders about blind spots and shortfalls within the EU Consumer Credit Directive, showing an urgent need for policymakers to review rules within it. Shortcomings on multiple elements of the Directive include current rules that fail to ensure consumers can make an informed choice when purchasing consumer credit.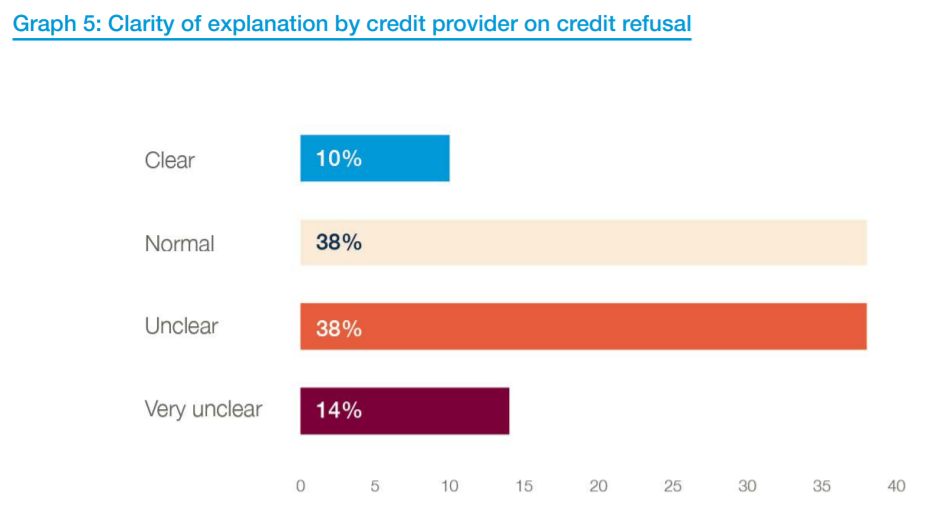 Finance Watch Senior Research and Advocacy Officer Peter Norwood said: "The study provides hard data that quantifies problems and malpractices in the consumer credit market. For instance, case data showed a 2,543% average annual percentage rate for payday loans, with rates reaching 30,341.1%. Lending practices for these products such as the pre-contractual information and the creditworthiness assessments are poor. This clearly shows a need to bring loans under €200 within the scope of the Directive."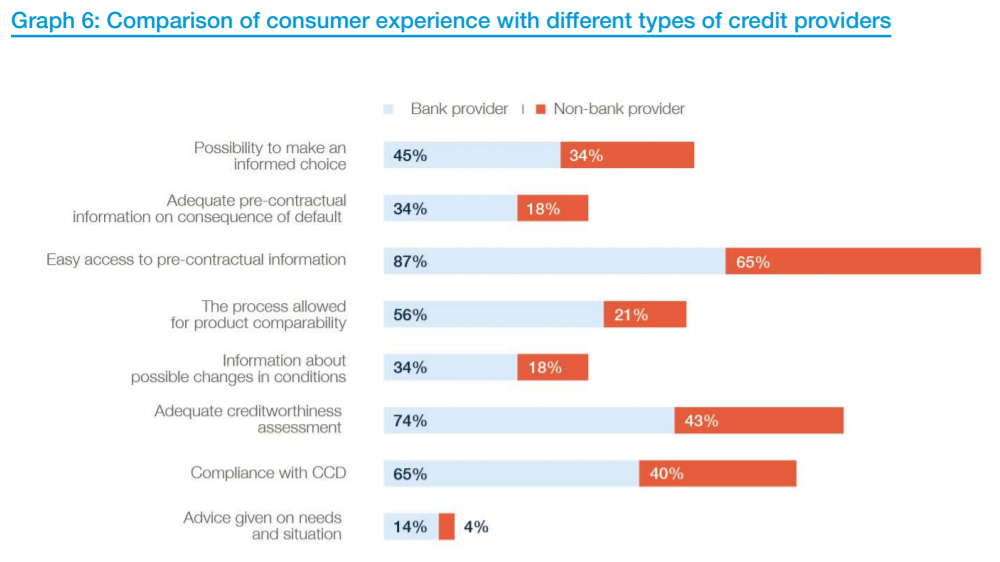 Mystery shopper data show 60% of consumers unable to make an informed choice due to lack of clarity of pre-contractual information provided, and the information not being provided in sufficient time before the loan is sold. This suggests a need for new consumer-tested rules on the content, format and presentation of the pre-contractual information. It also points out the Directive needing to clearly define when consumers receive pre-contractual information.
Finance Watch data also highlights the need to regulate loans not in scope of the Directive. The pre-contractual information provided to consumers, including on their high costs, proves often inadequate with regards to so-called high-cost short-term credit, such as payday loans. Creditworthiness assessments for these products remain poor and their costs unreasonably high and exploitative.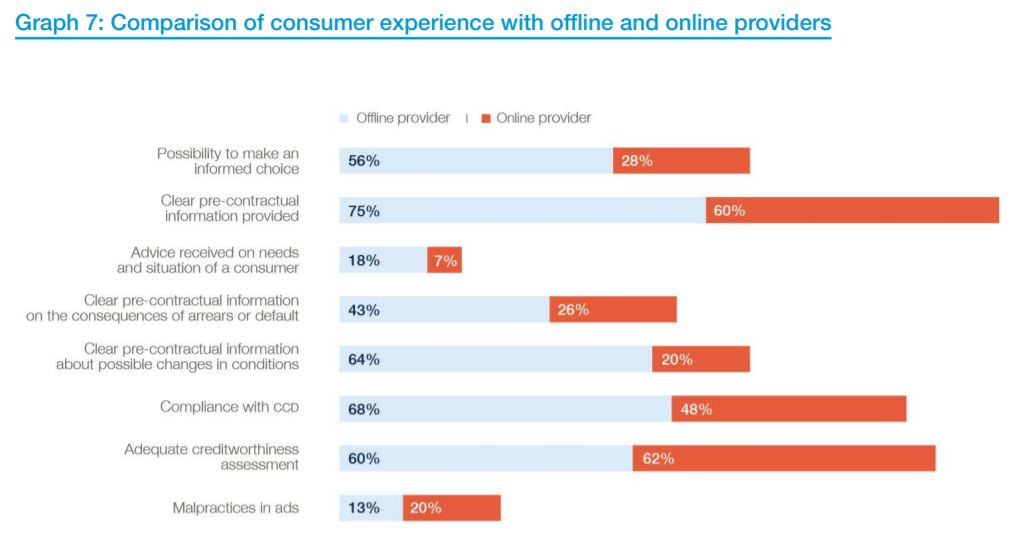 The study shows a troubling high degree of advertising malpractices. A credit provider in Romania, for example, advertised a personal loan interest rate starting at 8%, but failed to inform the consumer about the maximum interest rate charged or necessary conditions to be fulfilled to benefit from this offer.
The research also uncovered a serious problem stemming from poor creditworthiness assessments (CWA), which can lead to consumers being mis-sold loans they are not able to repay. The study confirmed that credit providers often use data irrelevant in determining the ability of a consumer to afford a loan. In 31% of the cases, lenders failed to ask during the creditworthiness assessment process about the borrower's budget balance, income and expenditures. Instead, some credit providers use irrelevant data such as data on consumers' political involvement or previous address, which can lead to financial exclusion and discrimination.
The study suggests also that many credit providers fail to use sufficient and verified data for the assessment. In 40% of cases, credit providers asked for less than four pieces of information in a declarative form to perform a CWA. This may not be enough to make a full assessment of a household's budget and ability to pay.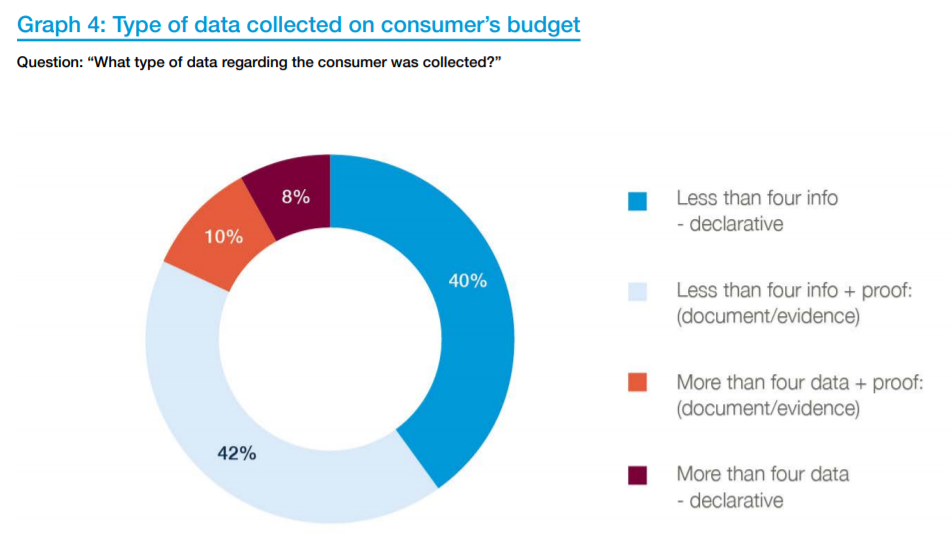 Finance Watch Secretary General, Benoît Lallemand, concluded: "The study confirms an urgent need to revise the Consumer Credit Directive. Rules within it need a revamp to thwart malpractices in the consumer credit market that compound the over-indebtedness problem faced by Europeans. For instance, we now have a clear case for robust creditworthiness assessments that use the right data to assess a borrower's ability to afford a loan. Doing so would help more people avoid financial hardship while helping address the festering non-performing loan problem and boosting overall financial stability."
POLICY RECOMMENDATIONS TO IMPROVE THE CONSUMER CREDIT DIRECTIVE (CCD)
Finance Watch gives recommendations for amendments needed to the Directive to better address highly troubling malpractices taking place in the consumer credit market:
Improve pre-contractual information, timing
. new consumer-tested rules on the content, format and presentation of pre-contractual information to consumers.
. define when pre-contractual information must be provided to the consumer. This should be at least 48 hours before the consumer concludes a credit contract.
Improve advice and suitability of consumer credit product
. insert product governance requirements.
. draw up standards on provision of advisory services to consumers.
. introduce business conduct rules on credit provider and intermediary remuneration policy to ensure they thwart irresponsible lending practices.
Fix dodgy advertising practices to avoid misleading information
. introduce detailed, consumer-tested rules on the content, format and presentation of information included in advertising to avoid misleading advertisements and ensure all essential information about a credit is provided to the consumer.
. ban unsolicited advertising.
. require credit providers to include in all consumer credit advertising material consumer-tested warnings that state credit costs.
Ensure adequate creditworthiness assessment practices through detailed rules
. detailed rules are needed on which information should be used to perform assessments, based only on information needed to allow for an adequate personal budget analysis, (namely data on income and expenditures), including all ongoing credit and debts.
. insert a rule in the Directive stating that the sale of consumer credit should be refused if the result of the Creditworthiness Assessment (CWA) shows the consumer not able to afford the loan.
. give consumers the right to receive an explanation of how and on what basis a decision on their creditworthiness was reached.
Widen Directive scope
. widen the scope of the CCD to consumer credit under Є200.
. introduce in the CCD a cap for the annual percentage rate (APR).
Fold-in non-bank entities
. make explicit that all non-bank entities, including all online players . engaged in the selling of consumer credit, fall within the scope of the Directive.
. introduce a requirement that all non-bank entities – both online and offline – must be registered and supervised by a competent authority to enforce these players' compliance with the Directive.
Create rules for online credit market
. make clear in the CCD that rules in the legislative text are applicable to all entities providing consumer credit online, including new digital players such as peer-to-peer lenders or other types of Fintech companies providing online credit.