Entering the 25th year of its partnership with the United States Tennis Association (USTA), American Express announced it will launch Amex Band, a contactless payment wristband for Card Members and fans attending the 2018 US Open Tennis Championships. American Express is continuing its long-standing relationship with four-time US Open champion Venus Williams (photo) as part of the brand's 2018 US Open advertising campaign.
AMEX BAND – UNLOCKING EXCLUSIVE US OPEN BENEFITS WITH A TAP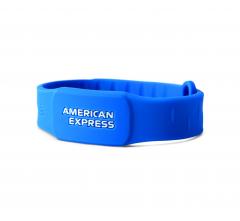 This year, the USTA has introduced more contactless payment options throughout the US Open experience. As the Official Payments Partner, American Express is launching the Amex Band, a contactless payment option for eligible Card Members, which lets Card Members pay for purchases and unlock experiences with the tap of their wrist.
Card Members can pick up and activate their Amex Band (one eligible American Express Card per band) at a number of locations at the US Open including the US Open American Express Fan Experience, South Plaza and American Express Radio Satellite Booths. Once activated, with a simple tap, Card Members can use the Amex Band to:
. Seamlessly purchase concessions (restaurants, suites and mobile carts excluded) and merchandise from accepting merchants;
. Access the American Express Card Member Club and exclusive merchandise for purchase in the US Open American Express Fan Experience;
. Access the Centurion Suite in Louis Armstrong Stadium (exclusively for Platinum and Centurion Card Members);
. Pick up complimentary American Express Radios and mobile phone chargers;
. Purchase a customized Polo, water bottle and tote bag with four Amex-exclusive Polo Ralph Lauren designs at the American Express Exhibit in South Plaza;
. Get $20 back after spending $100+ in one or more transactions on-site at participating merchants at the US Open, if eligible for the $20 offer. Eligibility differs for the Amex Band and the $20 back offer.