Alternative payment methods such as ewallets are overtaking cards as the most popular way to buy online, according to new research from WorldPay. By 2019, debit cards will be the third most popular payment method, followed by bank transfers and prepay. Although Cash on Delivery was predicted to drop to 2% of global eCommerce payments, this is expected to remain static at 7% until 2019.
The global ecommerce market is growing fast, hitting US$1.66 trillion in 2015, up 14% on 2014, according to WorldPay's Global Payments Report, based on research in 30 countries. For the first time, more than half of this turnover was accounted for by non-card payments (what Worldpay calls alternative payment methods (APMs), such as ewallets, direct debits and bank transfers.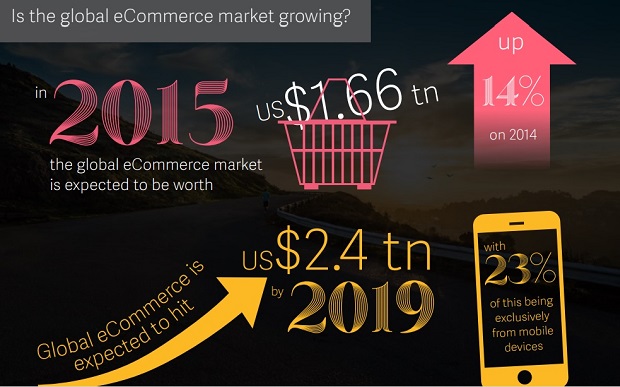 The research predicts that the rise of APMs will continue, with them accounting for 55% of ecommerce turnover by 2019. However, this is down on previous predictions, with slower than expected growth blamed on delayed launches of card scheme wallets and sluggish uptake in China. There are strong regional variations: In North America, APM's accounted for just 28% of ecommerce turnover in 2014, compared to 49% in EMEA and 58% in Asia Pacific.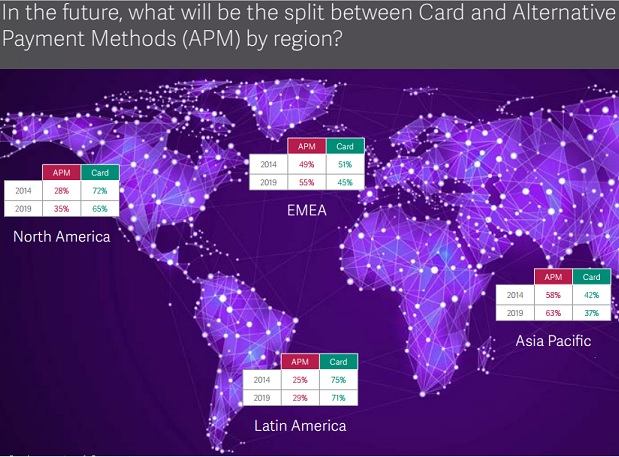 By far the most popular APM is the ewallet typified by PayPal and AliPay. By 2019, WorldPay expects ewallets to account for $647 billion, or 27%, of global turnover, compared with credit cards' $577 billion, or 24%. Debit cards will be the third most popular payment method, followed by bank transfers and prepay.
Which payment method will become the most popular in the future?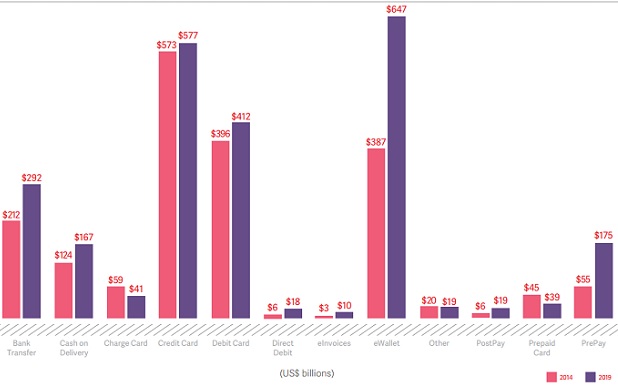 Kevin Dallas, chief product officer, global ecommerce, Worldpay, says: "The first age of digital payments kicked off with the eCommerce boom in the early 2000s when companies like PayPal and AliPay introduced eWallets to the mainstream. The second phase coincided with the rise of the smartphone at the beginning of the decade, and we've since seen a proliferation of new mobile apps that quickly raised the bar for convenience in payments".
Global payment methods breakdown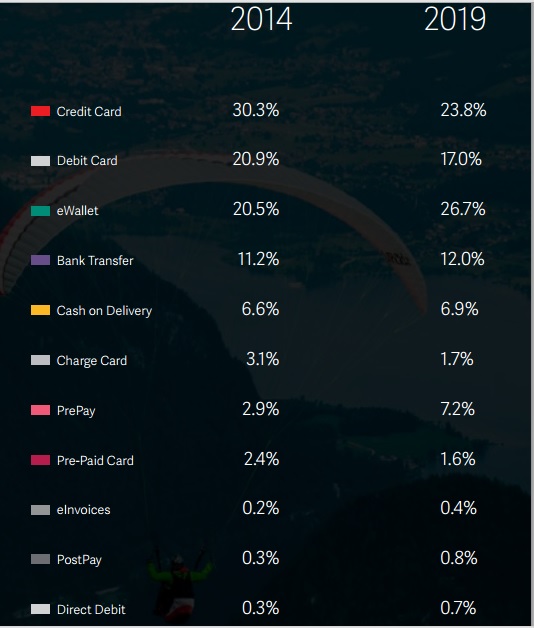 "However, with so many options being rolled out so quickly, a sense of app fatigue has begun to set in leaving both consumers and merchants unsure of which approach is best and questioning the convenience of using multiple eWallets. I expect the next few years will see a consolidation of the market as the public hones in on their preferred payment methods and conscientious merchants feel more confident buying into technologies that their customers have already embraced."
The authors of the report says that  their previous discussion about eWallets, in 2013, really included only V.me, MasterPass, Alipay and PayPal. "At that time, there were very few market entrants, and the main players enjoyed a substantial market share. Our (reasonable) expectation was that Visa and MasterCard would quickly steal significant share from the incumbents as the only viable alternatives. But who would have thought the world could change so much, or so quickly?"
"Driven by a need to create customer 'stickiness' by integrating their technology into their consumers' everyday lives, multinationals such as Apple with Apple Pay, Samsung with Samsung Pay and Google with Android Pay are revolutionising the payments scene. Never before has consumer choice been so broad. Interestingly, this is not a result of a simple revenue-generation strategy by these giants; instead, it is all about value add – a strategy of enriching their customers' lives by delivering the consumer shopping experience of the future." concludes the report.
Read the full report – Your definitive guide to the world of online payments