Currently, 80% of China's technology companies and half of large model companies run on Alibaba Cloud
Alibaba Cloud launched the latest version of its artificial intelligence model., according to a press release. China's biggest cloud computing and e-commerce player announced Tongyi Qianwen 2.0, its latest large language model (LLM). A LLM is trained on vast amounts of data and forms the basis for generative AI applications such as ChatGPT, which is developed by U.S. firm OpenAI.
Tongyi Qianwen 2.0, a generic LLM with a few hundreds of billions of parameters, "represents a substantial upgrade" from its predecessor launched in April. "The model successfully exceeds some leading LLMs in benchmarks across domains ranging from language understanding, arithmetic problem solving, to question-answering." – the company says.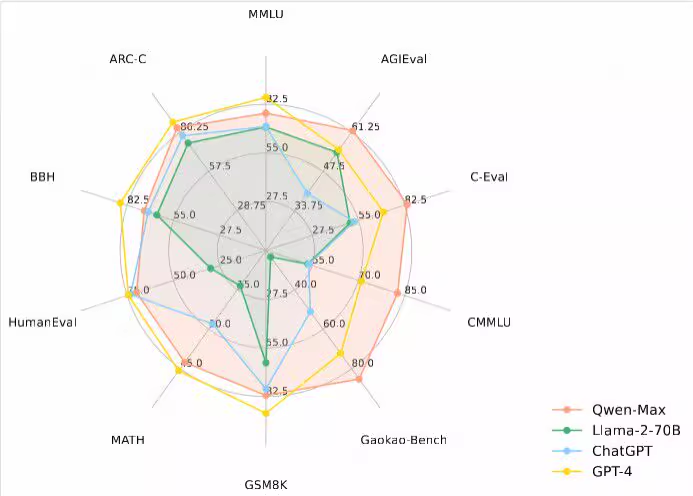 "With an expanded model size and improved alignment technique, Tongyi Qianwen 2.0 demonstrates remarkable capabilities in understanding complex instructions, copywriting, reasoning, memorizing, and preventing hallucinations. The model is now accessible to the public via its website and mobile applications, and available for developers through APIs." the company explains.
According to Reuters, Rival Tencent (0700.HK) last month said China was in the middle of a "war of a hundred models", with over 130 flooding the market. Tencent said its Hunyuan AI has more than 100 billion parameters and exceeds OpenAI's GPT-4 model in processing Chinese. The GPT-3 AI model from Microsoft-backed OpenAI contained 175 billion parameters in 2020 and Meta Platform's Llama 2 model had 70 billion parameters in 2023.
"Currently, 80% of China's technology companies and half of large model companies run on Alibaba Cloud. We aim to be the most open cloud in the era of AI. We hope that through this cloud, it will become easier and affordable for everyone to develop and use AI, so we can help, especially small and medium-sized enterprises, to turn AI into huge productivity," said Joe Tsai, Chairman of Alibaba Group.
The Hangzhou-headquartered company also announced the GenAI Service Platform, which lets companies build their own generative AI applications, using their own data. Alibaba launched eight AI models for the entertainment, finance, healthcare and legal industries.
"Large language models hold immense potential to revolutionize industries. We're committed to using cutting-edge technologies, including generative AI, to help our customers capture the growth momentum forward," said Jingren Zhou, CTO of Alibaba Cloud. "To help businesses better reap the benefits of generative AI in a cost-effective way, we are launching a more powerful foundation model as well as industry-specific models to tackle domain-specific challenges. Through these initiatives, we hope that our proprietary models can deliver real values to our customers to improve operation efficiency and stay competitive."
Community Programs to Foster AI Development
In a bid to support the broader AI community, Alibaba Cloud has pledged to contribute more to open-source communities, including ModelScope, the company-initiated AI community with over 100 million model downloads since its inception a year ago. The cloud pioneer plans to opensource its 72 billion-parameter version of Tongyi Qianwen later this year.
Alibaba Cloud also announced the Alibaba Cloud Startup Catalyst Program, offering cloud computing resources, including cloud credit support of up to USD $120,000, free online learning memberships, and networking opportunities to promising global startups including AI companies.