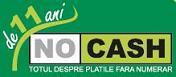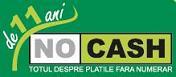 September 27, 2012 – SFR becomes the first telecommunications operator in France to launch the first prepaid and reload contactless card PayPass™ for payments and withdrawals.  Available during October, SFR PayCard will be usable by all mobile phone users (SFR clients or not). The product targets people without a credit card such as students whose family or relatives finance part of their expenses, people using international money transfers between two SFR PayCards at an affordable price, as well as to those who want to differentiate their online purchases.
This card will enable consumers to pay their transactions in 34.3 million locations of MasterCard's network, in France and abroad, as well as online or in-store. This card offers the option to withdraw money from all ATMs in France and from the international Mastercard network.
Priced at €14.90 and valid for one year, Paycard SFR does not require opening a bank account and can be recharged by cash, credit card or by bank transfer free. The card will be available on the website sfrpaycard.fr at its launch and to most of newsdealers in France.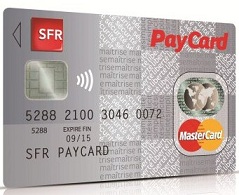 SFR PayCard  is the first step towards mobile payment as product enables tap & go TM payments at nearly 500,000 PayPass™ readers worldwide. Also, a mobile application (Android, iOS) and SMS alerts allow the cardholder to monitor in real time his transactions: payments, withdrawals, recharged process, balance, etc. At a cost of 1€, the user can recharge the card by a free bank transfer or by a money transfer between two SFR PayCards for use in France and abroad.
With SFR PayCard, SFR demonstrates its willingness to invest the payment market by offering its first physical payment service. SFR's strategy to approach this new sector answers to the expectations of consumers. In keeping with a study from Ifop2 (for Wincor Nixdorf) published at the end of 2011, 45%  of French consumers said they would like a prepaid reload card and 42% would like a contactless payment card.
Mastercard and SFR signed in July 2012 an agreement to develop a contactless NFC SIM card for fully-fledged mobile payments. SFR Paycard is the first pack of payment services from SFR.  SFR says it will start issuing its first NFC-ready SIM cards in 2013.
SFR is the second largest telecommunications operator in France, with revenues of more than €12 billion in 2011. As of June 30, 2012, SFR had some 21 million mobile customers, including more than 16 million subscribers, and 5 million high-speed home Internet subscribers.